What Do Men Want In A Woman?
Despite the fact that all men are different and will be attracted to different women with different qualities and personalities, there are some factors that are pretty commonplace across the board.
You might be surprised to find how simple they are to put into practice.
The secret is knowing.
If you've ever wished that men would stop pushing you away…
If you've ever been confused by men's seeming unexplained behavior…
If you've ever wished to connect with a man at a level where he wants to open up to you…
If you've ever lacked confidence in attracting and keeping your ideal man…
Then make sure you watch this right away: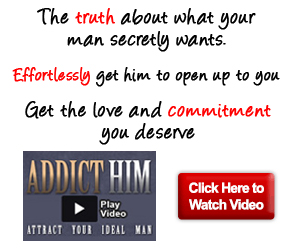 Men like to feel appreciated (and so do women) but showing a man you appreciate him will always be a winner.
Your man will be so happy if he is appreciated and you acknowledge this by showing him he is appreciated.
There may be a time when he is attracted to other women who also make him feel good. If he is committed to you his attraction to you will deepen over time as you have a special way of making him feel great.
It's the small things that count, saying thank you when he does something thoughtful and complimenting him.
Mindless dramas and conflicts which mean nothing at the end of the day. Don't get caught up with this.
Looking Good
OK this one should be top of the list.
There is an initial attraction and men like hot women.
The trouble with women is that we have very high and often unrealistic standards.
We all know that as women we are very hard on ourselves but we don't need to be a Jennifer Lopez to be a smart, attractive and sexy woman.
Take pride in your appearance and being happy and confident is very, very sexy.
Don't force it, you don't want to appear weird, just be the charming self that suits your personality.
Men are attracted to all kinds of beauty.
Confidence
Confidence is sexy, arrogance is not.  
Fake it till you make it. Some women may need practise with this and that's okay.
Be comfortable in your own skin.
Think about it, this also works in reverse, women are attracted to confident, smiling men.
Confidence really is a magnet.
Don't mistakenly think that confidence means you have to be the life of the party.
That may be confidence if that is your personality type however confidence can also come with a more introverted personality type.
Forgiveness
We all know women who nag their men and frankly it isn't attractive.
Nagging in jest is something that couples who have been together for a long time can do in a companionable manner however the daily constant nagging over the smallest things becomes wearing and over time a man will lose his attraction.
This should work both ways of course but let's face it, women are bigger in the nagging department than men.
If a woman can brush off small things as being of no great consequence or accept an apology without having to add "but" she will be so much more attractive to a man.
I am not saying that you need to be a pushover, far from it but work out what is important and what is not.
Nagging is never a solution to anything.
Smile
This may seem oversimplified but it's really not, smiling is so important.
It is one of the easiest ways to get the attention of a man.
Smile often, be natural.
It's easy to do but sometimes it can just be forgotten as it is so simple.
A smile to a man you have never met sends a message that you are approachable and a smile to a man you are with sends a message that you are enjoying his company and you like being with him.
Watch the video to understand there is a secret he's never going to tell you to your face.
Knowing it will change everything about how you relate to your man.